Zero Waste Planet
Instructions...
Principles...

Do you have a waste product you want to list? Send us an email at:
info@zerowasteplanet.com


Top 10 Product Types

Top 10 Compounds By Product Type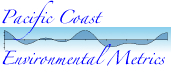 All Zero Waste Planet images and logos © 2009, 2012 Pacific Coast Environmental Metrics. All other images used with permission of their owners.
Zero Waste Planet: Finding someone else's waste for your raw materials